Restoring Confidence
Posted by June Warry on 2 June 2019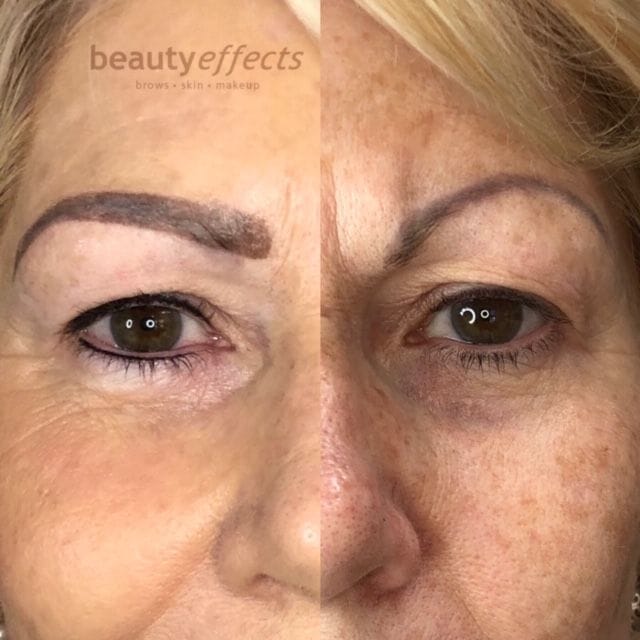 Sometimes clients come into the studio and you can feel and see the desperation on their face... you see Cosmetic Tattooing is kinda a big deal... you know, someone tattooing your face!
It's even more of a bigger deal when you are left with results (like the brow on the right hand side of this photo). You see cosmetic tattooing, microblading, tattooed brows, micropigmentation, feather touch brows; whatever it is that you refer to this treatment as is something that can be left with you for several months, or like this client here, several years. Many years ago there wasn't the influx of artists that there are now. The training and knowledge was harder to come by too... back then most of us we were given rudimentry training and most of our skills were picked up along the way through hard work & sourcing other training. Speaking for myself, this involved venturing on several overseas trips to learn from international tattooing masters . Nowadays it's slightly easier however some of the problems that remained many years ago are still apparent for some clients. Needles to say, bad work has always been around! And remember clients only know what they know!
Some simple tips for clients to choose an artist is-
1. Word of mouth
2. Current and up to date training
3. HEALED images on websites and social media
4. When viewing images look at clients who are of similar age and skin type to you (don't be persuaded if you see that an artist has worked on a 'influencer'... infact most of the time artists do it for FREE on these people just to boost their instagram followers!)
This client pictured had been walking around with her tiny 'hooked.. 1920's styled' brows for YEARS! It was something that had always bothered her, but it was almost 'too hard' to do something about them as she didn't know where to start. She had sourced out another artist in Toowoomba who is relatively recent in the cosmetic tattooing world and kudos to that artist she knew it was beyond her skill level and recommended her to come to me! To be honest, I was nervous! I don't always take on another artists bad work but I knew this meant a lot to this client. We did a few 'non laser' tattoo removal sessions... this is long, arduous and can be costly... but we were committed... we could see light at the end of the tunnel! After 3 sessions of removal and the new pigment range introduction into my studio we were ready to go ahead with tattooing new brows on my client. I was very clear and precise with my consultation... I was honest... I told my client that the results were never going to be as perfect as what they would be if I had 'virgin' skin (untattooed skin). I had to work in with the old shape as much as possible and yes if you zoom in you can see still some of that old 'blue' through the new brows... but to this client it didn't matter. I was hard to get used to the new brows in the beginning... they seemed soooo damn thick! soooo dark! Some friends and family were also a little overwhelmed with her new look but we kept stressing that patience was the key here. Patience to adjust to the new shape, patience for the new colour... Rome wasn't built in a day, neither were these brows!
Fast forward a couple of months (see image above) not only has this client got a new set of rocking brows, the journey, confidence, smile and transformation that we have created has been amazing. These brows are a set that I'm incredibly proud of! I am delighted with our perfectly inperfect brows and the trust that this client has had in me... to me, this is priceless!
The brow journey has then led onto tattooing eyeliner, changing makeup colours & smoothing out that skin with our favourite Environ products.
Thank you for trusting me, thank you for your patience with our journey... it's one that I'll never forget!
Brows are LIFE!
Author: June Warry